Staff At The Atlanta Location
Brent Applegate, PT
Owner/Therapist
Brent began his career at Children's Healthcare of Atlanta, working in many different areas and gaining experience in many of the different phases of the rehab cycle. It wasn't until he combined his history of horses with that rehab process that he found what he believes to the most efficient and most beneficial form of rehabilitation to date. He believes it is the combination of traditional techniques in this unique setting that have the most profound impact on his patients.
---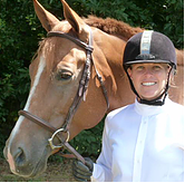 Carrie Bartelme, OT
Manager, My Heroes at CHP
Carrie has been studying hippotherapy and equine assisted activities since 1999. She is currently a PATH Certified Therapeutic Riding Instructor, PATH Registered Therapist in Hippotherapy, and AHA Level II Therapist. She is a graduate of Brenau University with an Advanced Master Degree in Occupational Therapy and is currently pursuing her Doctorate in Occupational Therapy at the University of St. Augustine. Carrie enjoys spending time with her horses and showing hunter jumper with her horse Ralphie through the American Quarter Horse Association circuit.
---
Sue Soha, PT
Sue grew up taking lessons and competing in English riding and jumping horses. When she learned of Hippotherapy, she couldn't believe she could actually get paid working with both children and horses! In 2000, she moved from California Children's Services to Atlanta, where she worked for the Scottish Rite Children's Healthcare outpatient clinic. As an NDT certified therapist, she truly loves to work with children who have neurological disorders using the horse as a modality. When not "working", Sue teaches religious education and sponsors couples for marriage preparation with her husband through her church, and works out doing Aerial Arts.
---
Lauris Jones, COTA
---
Katy Lee, MS OTR/L
---
Michelle Winer, PT

Michelle earned her Masters of Science in Physical Therapy from Boston University in 1999.  After working as a PT in public schools in Maryland and Massachusetts, Michelle spent a few years being a full-time mom to her 4 children.  Growing up in NJ, Michelle regularly went on trail rides and riding vacations with her family and has always had an interest in hippotherapy.  After volunteering at Chastain for 6 months Michelle took her AHA level 1 and began seeing patients at CHP.  She has since taken the AHA level 2 course as well.  She is thrilled that she now has the ability to do both traditional pediatric physical therapy in an outpatient clinic as well as hippotherapy at Chastain Horse Park.
---
Margie Good, Scheduler
Having worked in the travel industry for most of her life and owning an agency in Georgia for 9 years certainly prepared Margie for her role as the administrative coordinator for both the school program and Horse Lovers Camp , among other duties. A pride in good customer service and a love of horses and children has also made the role of Pony Party coordinator one of her favorite jobs at CHP. Her love affair with Chastain Horse Park began in 2004 when she followed in her daughter's footsteps and started volunteering with the Therapeutic Program. Since then she has also been lucky enough to ride in both the Therapeutic and School programs, own and board a horse at the barn , and assume many other roles when needed. In her spare time Margie enjoys collecting college degrees and is currently studying Modern Hebrew.